Garden Offices & Rooms
What is garden office & room ?
Garden offices and garden rooms have been getting very popular lately. These structures, which are both easy and low-cost to construct, are frequently used especially in England & United Kingdom. So what are these garden offices and garden rooms?
What are the advantages of garden rooms ?
Garden offices, which offer many advantages compared to traditional houses, attract the attention of many of our customers. Ideal Prefab continues to provide the best service to its customers by using the highest quality materials.
Since garden offices can be portable, modular and wheeled if desired, a permit may not be required in these structures. This provides a unique opportunity in terms of both cost and time. Another feature of garden rooms is that they can be designed as desired by our customers. It can also be integrated into your existing home, so you can have a wider usage area.
Garden offices, which can be made in desired dimensions and features, are also very successful structures in terms of insulation and earthquake resistance. If you have time, we recommend you to come to our prefabricated factory of 20,000 m2. As Turkey's largest steel structures manufacturer, we are ready to serve you.
Garden rooms ideas & uses
Garden offices and garden rooms can be used in many ways: living space, office, gym, home spa, game area etc. What makes these structures special is that they are modular structures. You just dream it and as a Ideal Prefab we'll make it real 🙂
Garden offices and garden rooms are more popular in England. We continue to make our customers happy with the numerous projects that we have made in United Kingdom. Our customers, who want to build a garden house in UK, mostly search on "garden offices in England" or "garden rooms in United Kingdom" on Google. If you want to see the unique models of Ideal Prefab, you can check our newly launched English website idealprefab.com
Why are garden offices a great option for you ?
Modern and cost-effective
No licence permission required
Installation time is very short, like 2-5 days
Prices are fixed at the time of the contract so you will not encounter any surprises in the future.
Garden offices are minimalist structures and nature-friendly materials are used in these buildings.
It is much more resistant to earthquakes than reinforced concrete structures
The life span of garden rooms is very long.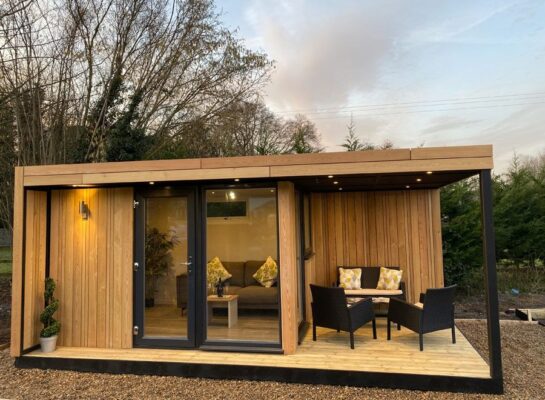 Are you wondering which cities we are building garden offices and garden rooms in United Kingdom? Let's see those together !
London, Birmingham, Liverpool, Sheffield, Bristol, Glasgow, Leicester, Edinburgh, Leeds, Cardiff, Manchester, Stoke-on-Trent, Coventry, Sunderland, Brent, Birkenhead, Nottingham, Islington, Reading, Kingston upon Hull, Preston, Newport, Swansea, Bradford, Southend-on-Sea, Belfast, Derby, Plymouth, Luton, Wolverhampton, City of Westminster, Southampton, Blackpool, Milton Keynes, Bexley, Northampton, Archway, Norwich, Dudley, Aberdeen, Portsmouth, Newcastle upon Tyne, Sutton, Swindon, Crawley, Ipswich, Wigan, Croydon, Walsall, Mansfield, Oxford, Warrington, Slough, Bournemouth, Peterborough, Cambridge, Doncaster, York, Poole, Gloucester, Burnley, Huddersfield, Telford, Dundee, Blackburn, Basildon, Middlesbrough, Bolton, Stockport, Brighton, West Bromwich, Grimsby, Hastings, High Wycombe, Tottenham, Newcastle under Lyme, Watford, Saint Peters, Burton upon Trent, Colchester, Eastbourne, Exeter, Rotherham, Cheltenham, Lincoln, Chesterfield, Chelmsford, Mendip, Walthamstow, Dagenham, Basingstoke, Maidstone, Sutton Coldfield, Bedford, Oldham, Enfield Town, Woking, St Helens, Worcester, Gillingham, Becontree, Worthing, Rochdale, Solihull, Royal Leamington Spa, Romford, Bath, Harlow, Nuneaton, High Peak, Darlington, Southport, Chester, Stevenage, Wembley, Grays, Harrogate, Hartlepool, Fulham, Londonderry County Borough, Cannock, Hemel Hempstead, St Albans, Redditch, South Shields, Derry, Weston-super-Mare, Halifax, Edmonton, Beckenham, Tamworth, Scunthorpe, Stockton-on-Tees, Wakefield, Carlisle, Gateshead, Lisburn, Putney, Fylde, Paisley, Bracknell, Battersea, Crewe, Chatham, Hove, Aylesbury, East Kilbride, Canary Wharf, Rugby, Salford, Purley, Guildford, Shrewsbury, Peckham, Barnsley, Lowestoft, Gosport, Uxbridge, Southall, Stafford, Royal Tunbridge Wells, Wimbledon, Stamford Hill, Ellesmere Port, Rossendale, Folkestone, Brixton, Hounslow, Chingford, Finchley, Wrexham, Torquay, Cricklewood, Maidenhead, Kingswood, Taunton, Waterlooville, Macclesfield, Bognor Regis, Newtownabbey, Kettering, Buckley, Great Yarmouth, Mitcham, Runcorn, Ashford, Tonypandy, Scarborough, Widnes, Aldershot, Bury, Barking, Castleford, Hereford, Bangor, Stroud, Margate, Chelsea, Loughborough, Welwyn Garden City, Farnborough, Rhondda, Craigavon, Wallasey, Littlehampton, Bridgend, Streatham, Bootle, Weymouth, Fareham, Morley, Cheshunt, Kidderminster, Corby, Dartford, Castlereagh, Dewsbury, Livingston, Stourbridge, Sale, Halesowen, Canterbury, South Croydon, Huyton, Leytonstone, Barry, Gravesend, Eastleigh, Meikle Earnock, Acton, Washington, Braintree, Hamilton, Brentwood, Esher, Crosby, Reigate, Dunstable, Morecambe, Cumbernauld, Redhill, Horsham, Staines, Batley, Wellingborough, Clacton-on-Sea, Dunfermline, Bletchley, Keighley, Hayes…
Ideal Prefab – If you search on the internet, it is unlikely that you will see even 1 complaint about us, even tough we're the largest and most popular steel structures manufacturer in Turkey. Our after-sales services are very successful !
If you have any more questions, you can contact us as soon as possible. Ideal Prefab makes your dreams come true about garden offices and garden rooms !
Contact number +90 553 905 35 10 (whatsapp&viber)